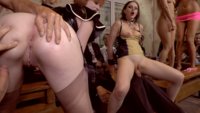 Tina Kay is known for her dominance. Today Steve Holmes is going to teach this wannabe Dom how to be a submissive, obedient cum guzzler. We start Tina's Public Disgrace by parading her bare ass around the town. She reluctantly submits to Mr. Holmes' commands with the encouragement of his open hand. Mr. Holmes then takes this sassy cunt to a Euro gentlemen's club where Tina meets her new trainer, Zara DuRose. With the club full of beautiful girls and men needing to have their cocks serviced. Zara gives everyone a beautiful lesbian show as Tina slurps at Zara's ginger pussy. Tina finally begins to submit and opens her holes to be pounded raw. Tina's full ass looks amazing as she gapes her holes from being DP'ed. This amazing shoot ends with Tina's smiling face covered in cum.
Join Site!
Buy Shoot!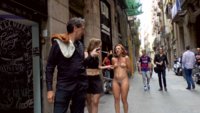 Mona Wales has found a filthy little panty sniffer that needs to atone for sinning with her whore holes. Pamela Sanchez's atonement begins by being publicly suspended in rope bondage with her sinful cunt exposed. A crowd gathers around Pamela as Mona and Steve Holmes use her mouth as an ashtray. As more men approach Pamela to photograph her spread pussy, Mona canes Pamela's bare feet till she wales in pain. Satisfied with the first part of Pamela's atonement Mona takes her to a bustling Barcelona market where she strips Pamela naked and pushes her to bare her shameful body for everyone to see. Pamela hangs her head with embarrassment as women point and whisper and men stare. Pamela's final trial of atonement for being a filthy whore is public humiliation by sexual servitude. Mona and Steve open this bitches holes up for everyone to use. Pamela gets her ass pounded by a dick on a stick, as her throat is used by Steve's huge cock. Pamela's atonement ends with her completely used up in a pool of her own squirt, her braces caked with cum. Another public disgrace fantasy fulfilled.
Join Site!
Buy Shoot!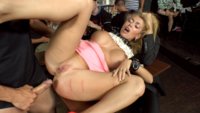 Big Tit Blonde Isabella Clark is here to show off her amazing asshole to the public of Budapest! But first Steve Holmes takes this slut out in public for a deep throat blowjob. People are just amazed and shocked to see this whore suck down Steve's giant cock in public! Isabella is then strapped down in leather bondage and a ball gag and taken to an open restaurant where the rowdy crowd gets to watch this slut perform! Caning, Flogging, Corporal Punishment, Tit Slapping, Anal, Double Anal, Double Penetration, Anal Fisting!!! This true whore takes it all and then licks it all up afterwards!
Join Site!
Buy Shoot!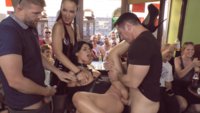 19 year old Bella Beretta is ready to push her sexual limits. Her tight ass and perky tits make her an object of desire wherever she goes. The eyes of men and women follow her even when she isn't wearing a slutty dress. Fetish Liza exploits Bella's youth and innocence, parading her through a local Budapest market. Shopkeepers and delivery men grab their phones to capture a snapshot of Bella's exposed cunt. After Bella's marketplace humiliation, Liza takes Bella to a small pub in search of some cock to stuff in Bella's tight pink pussy. Bound in rope Bella's swollen pussy is repeatedly groped by excited bar patrons. Men push up against the open window to watch Bella get passed from one cock to the next, filling her mouth and dripping fuck hole. Finally after being completely used up Bella get her reward of a mouth full of cum. Another Public Disgrace fantasy actualized.
Join Site!
Buy Shoot!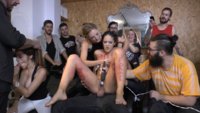 Barcelona is a city of dick shaped buildings. Mona Wales takes a Public Disgrace favorite, Carolina Abril, on a pilgrimage to worship huge cock at the base of these large phallic buildings. Mona begins her humiliation of Carolina by having her slide her white cotton panties off, exposing her bald cunt to a crowd of construction workers. Mona, unsatisfied with her subjects faith in cock takes her to a church where Carolina gets on her knees and prays to be penetrated as she is completely surrounded by excited onlookers. Carolina gets her prayers answered in a local salon where she gets repeatedly fucked as she is grabbed, slapped and fucked by a cheering crowd.
Join Site!
Buy Shoot!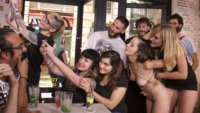 Don't let Perky Brunette Nati Mellow's size fool you, she is a wiggly little bitch and needs to be held down and humiliated. This braces face whore gets tied up in rope bondage and ruins hundreds of tourist photos out in Barcelona! Then this little pocket sized pussy gets dragged in the Coplas Bar and has her dirty filthy bare feet punished! Everyone gets a turn on this whore whipping and flogging her! Not to mention zappers, this slut is afraid! The whole bar can't even hold her down. Finally we get this cunt down and fuck her full of cocks. We have to smother her in huge tits to get this squirmy little bitch to stay still! Nati Mellow is the tiniest most poorly behaved little cunt Mona Wales has ever met in all of Spain!
Join Site!
Buy Shoot!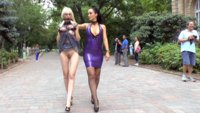 Perky blonde slave girl Alexa Wild's first time on Public Disgrace! This gorgeous slut was hand picked to service the streets and bars of Budapest. First things first with this whore is a brutal corporal punishment and electric play with zappers. Then we parade this bright red ass and perfect tits around a crowded public park for all to gawk at and photograph! After the cops show up we take this eager hole to a crowded pub and let the patrons have at her. She takes it in all her holes and even offers up an epic DOUBLE VAGINAL after being FISTED! This horny slut then gets drenched in cum.
Join Site!
Buy Shoot!