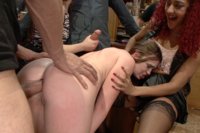 Sweet slutty Jodi wanders the streets of San Francisco with her ass out for all to see. She finds a group of nudists and then stumbles upon a flower shop. Her fantasy comes to life when she is dominated into submission in front of customers. She's rope bound, fucked by a huge cock, and dominated by beautiful female patrons. She's is covered in cum and piss.
Join Site!
Buy Shoot!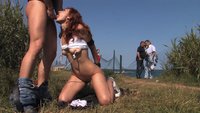 Public Disgrace is THE site for real public sex and public humiliation. We take our girls to the street where everyone can see them, strip them bare, fuck their brains out, and invite strangers to fondle and finger them. It doesn't get more authentic than this. If what you want is real public bondage and sex then look no further, Public Disgrace is the site for you!
Join Site!
Buy Shoot!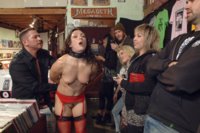 Bound in beautiful San Francisco, sex slave Wenona is made to walk the filthy streets in broad daylight. Searching for anything to wear and having no money to pay, Wenona offers up some oral deposits in exchange for the goods. Finally Wenona finds herself at a crowded record store, ready and willing to put on a show for the customers. John Strong is happy to flog, cane, and make Wenona his pet slave. She obliges him by getting all her holes filled and fucked. Don't we all wish we could work at that record store!
Join Site!
Buy Shoot!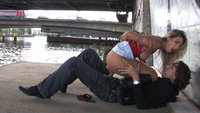 Daria Glower is a Czech beauty who gets fondled and made to cum in front of a bunch of horny construction workers. Then she gets Steve Holmes massive cock stuffed down her throat in public. She is bound and fucked by an abandoned house, and left with a big load of cum on her face!
Join Site!
Buy Shoot!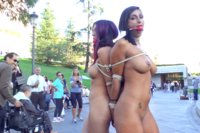 Two gorgeous models are tied up and publicly humiliated on the streets of Madrid in full display for everyone to see. Later that night they are made to serve a packed club. Every slave pussy gets fucked that night.
Join Site!
Buy Shoot!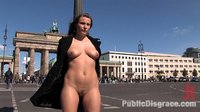 The first scene of this movie should definitely go down in the Public Disgrace Hall of Fame. Harmony Rose puts electric sticky pads on under her coat and a vibrator on her clit in front of one of the most famous monuments in Europe. Hoards of people surround her while she cums and suffers in silence. Then she is handcuffed to a light post and her jacket is unbuttoned to reveal her naked body for everyone to see. Hot!! Hot!! Hot!!
Join Site!
Buy Shoot!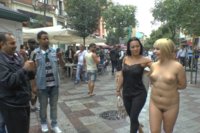 Sweet Mitsuki is put up for display on a busy street for hundreds of tourists to see. She's chased and fucked through a public park, while in a straightjacket. Then they sneak her to the back of a store where they shave her pussy. They end up in a dark stairwell, where Sandra Romain and Steve Holmes torment and fuck her while a group of young people watch.
Join Site!
Buy Shoot!