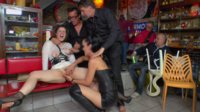 Longtime PD Fan and public whore Lucia Love is greedy to be used on Public Disgrace!!! Fetish Liza steps up to that task and brutally shames and humiliates this natural busty whore all over Budapest. Lucia barks like a dog, gets disgusting food smeared over her face, and then pissed on to wash it all off. This greedy anal slut can't get enough, she is humiliated with a hard pounding double penetration in front of a huge crowd.
Join Site!
Buy Shoot!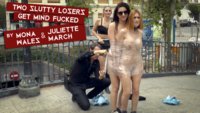 We have Mona Wales back! And to make it even crazier she's brought along Juliette March to brutally humiliate two gorgeous slutty loser models! These rope bondage whores get tied up in a public park in front of a huge crowd and take a serious corporal punishment! Next these disgraced sluts get stripped fully naked in public and told to bark like dogs for the huge crowd to see! Finally we tie up these beautiful models again for an epic fucking and fisting! Do not miss this public humiliation with Mona Wales, Juliette March, perky Claudia Nicole, and busty Valeria Blue!!!
Join Site!
Buy Shoot!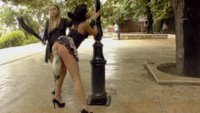 Coco de Mal is a leather bondage whore and is there only to serve her horny domme Nikki Thorne! With her gorgeous ass on display to the public of Budapest, Nikki delivers a hard corporal punishment. Once that ass is ripe it's time to fill it up! Nikki finds two hard cocks to deliver a hard pounding for that anal whore. Double Vaginal, Double Penetration, and a face full of cum is what this shamed slut gets.
Join Site!
Buy Shoot!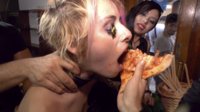 Erika Sevilla is put on full display in front of a huge public crowd, there's even policemen with shotguns there! Luckily she makes it out and is then dragged to a random gas station where she is instructed to offer full service to all the surprised customers. No tips for this pathetic whore! To further humiliate this bondage slut we take her to an internet cafe and shame her live on skype! Finally this dirty slut gets dicks, pizza, and cum shoved and rubbed all over her sorry face!
Join Site!
Buy Shoot!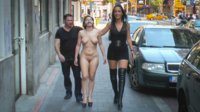 Chiara Diletto is back on Public Disgrace and ready for another brutal humiliation. We are also proud to have Fetish Liza and John Strong to drag around and disgrace anal slut Chiara! In the fist part of this epic, Chiara is stripped fully nude in a public park and made to crawl around on hands and knees like a dog! She also takes a hard corporal punishment from Fetish Liza. Later Chiara is put on full display to the public streets of Budapest where she takes a two huge cocks and a double penetration. Her ass gets filled! John Strong also puts her to shame with a painful electric zapping to her pussy!!! You do not want to miss this amazing shoot!
Join Site!
Buy Shoot!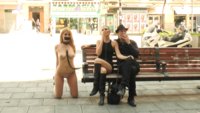 Hanna Montada is a gorgeous busty bondage slut that is stripped fully naked in public. Humiliated by Mona Wales, this whore is made to service Legendary Steve Holmes. This pain slut wants even more and takes corporal punishment followed by a hard fucking in rope bondage. Mona Wales has her way too with this big tit slut and fists orgasms out of her.
Join Site!
Buy Shoot!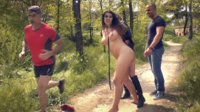 Mona Wales is back on Public Disgrace to make sure Busty Model Klara Gold gets everything that is coming to her. Klara is humiliated in a public courtyard then taken to a crowded park for hard fucking. Mona even pisses on her! Later at a crowded cafe, everyone gets a piece of this slutty whore.
Join Site!
Buy Shoot!