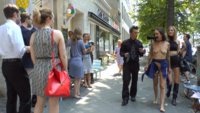 Standing on a corner in downtown Berlin, Coco Chanal throws herself at pedestrians walking by. Begging for someone to be the first to buy her cheap fuck holes. Luckily Mona Wales comes along to take this whore's porno virginity. Instantly Mona strips Coco naked while this overeager slut begs to have all her holes used and her ass filled with cum. What else do you do with a cum hungry fuck toy but dress them up in the sluttiest latex outfit you can find. After Mona shoves a huge but plug up Coco's ass, she makes Coco stand in the window of the fetish shop as a real life manikin. After demonstrating her submission, Mona stuffs all of Coco's holes full with throbbing cock. Coco takes one dick in her cunt and another in her stretched asshole. Watch these two cocks thrust and pound Coco stupid. Mona finishes Coco off by prying her mouth open as load after hot sticky load is squirted down her throat. Another disgusting public disgrace fantasy fulfilled.
Join Site!
Buy Shoot!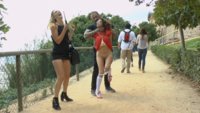 Today on Public Disgrace we open our adventure with Mona Wales pondering on the true nature of women. Mona believes that all women are just dirty fuck rats born of sin. She knows in her little domme heart that all these fuck rats have been put on this earth with an insatiable need to be to be publicly fucked and humiliated. As Mona basks in her dreams of domination a curious little fuck rat walks up to her lifts her skirt and shows Mona her true nature. Zenda Sexy shows off her heavy tits and little pink pussy as she is publicly suspended in rope bondage. Mona hates Zenda's polkadot dress, so she strips her completely naked and makes her crawl along the filthy ground as punishment for her true nature. After Mona is satisfied with Zenda's punishment she takes her to small boutique to attempt to find Zenda clothing slutty enough to entice someone to stick their dick in her sin hole. The shop quickly fills up to watch Zenda cower in the corner as Mona threatens her with a zapper. The lesbian shop girl is so excited she drops to her knees and starts blowing customers as Zenda opens her holes to be filled by all. By the end of this shopping trip, Zenda squeals as she gets her face covered in cum.
Join Site!
Buy Shoot!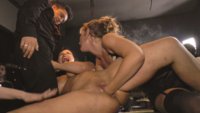 Busty Bitch Pina De Luxe is a Filthy Whore who needs Mona Wales to wash out her slutty dirty mouth with soap. That doesn't stop soaking wet Pina from crawling on her hands and knees all over the dirty streets. What's dirtier than those streets? A filthy underground sex club where Pina is made to service all the huge cocks there. This dick whore is punished with corporal, electric zappers, floggers, bondage, fisting and a face full of cum. This crowded club humiliates the curvy pain slave.
Join Site!
Buy Shoot!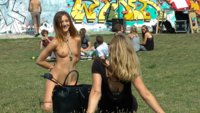 Infamous party girl, Lullu Gun loves tromping around bound and naked. Put on an electronic beat and this little nympho will stun you with her gyrating hips and the bouncing of her little teen titties. Showing her slut hole to everyone in the park makes Lullu a hungry girl. Mona Wales takes her hungry hungry hooker to the nearest Italian spot to fill her mouth hole with carbs and cock. The moment Lullu walks into the restaurant, completely naked and exposed, all the patrons stop what they are doing to stare at her tight little body. Mona explains to everyone at the eatery that Lullu has to sexually service each one of them before Lullu earns the right to eat. Lullu is such an eager whore that she instantly drops to her knees and begins eating pasta off the dicks of strangers. Disgusted by Lullu's hungry cunt, Mona shoves Lullu's face into a full plate of pasta, shoves her onto her back and ruthlessly fists Lullu's gapping gash. Lullu finishes her day with two helpings of jiz directly down her throat.
Join Site!
Buy Shoot!
These two blondes will go to any length to please their dominant. After being publicly humiliated, Mandy and Isabella Clark are taken to a crowded bar to be used for everyone's entertainment. Issabella is striped naked and crawls along the filthy floor in a pathetic attempt to find a cock to suck. Mandy desperately needs to have her MILF ass pounded till she cant remember who she is. Propped up on a table three men take turns penetrating her asshole until it is gapping and ready for more. With a huge crowed of shocked onlookers Mandy's ass swallows a mans fist up his wrist. His feverish colon punching pushes Mandy over the edge. The crowd gasps when her fuck holes pumps with the waves of orgasms. In an attempt to not be overshadowed by Mandy's anal acrobatics, Isabella takes one cock in her sloppy cunt and another jammed into her ass. After being fully used up Isabella tilts her head back for her three load facial.
Join Site!
Buy Shoot!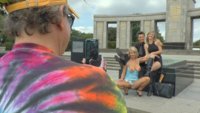 Busty blonde Luci is put on display in front of eager tourists. A group forms to watch her publicly shamed until the cops show up. Mona brings the dirty slut to a famous sausage stand where she's fully nude in front of a huge crowd. She has to stand and wait while tons of people gawk and stare. The next stop is a crowded cafe where she is tied up, blindfolded, and groped by complete strangers. After she is fed cocks and pounded in her ass and pussy, Mona gives her a final task. With a toilet brush strapped to her face, she has to clean a filthy urinal while getting cum on all over her face.
Join Site!
Buy Shoot!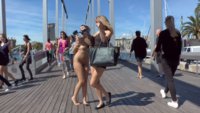 Mona Wales has found another eager little nympho who needs to be publicly fucked and degraded. Naked and exposed Nikki Litte begins her Public Disgrace as a public ashtray. Tramping up and down a courtyard, Nikki pleads with every smoker she can find to use her. In exchange for their ash she spreads her legs, giving anyone a peek at her excited cunt. Mona then takes her enthusiastic attention whore to the boardwalk. Nikki's Barefoot, bare pussy and bare ass illicit many reactions from the passing crowd. Some stare with disgust while others stop in their tracks to watch Nikki's perky little titties bounce as she skips on by. After Mona is satisfied with Nikki's public display she takes her little slut to the closest bar to see if she can find some cocks to pound Nikki's cunt. As soon as Mona and Nikki walk into the bar the flies go down and the dicks get up. Nikki gets to work and wraps her tits around a cock, jerking the tip directly into her mouth. It isn't long before Nikki is bent over a table getting her cunt pounded as everyone in the bar gropes her breasts and grabs her ass. Once thoroughly used up, Nikki finishes the throbbing cocks with her throat. Slurping their balls till they unload all over face and into her gaping mouth. Mona smiles, content with her work.
Join Site!
Buy Shoot!