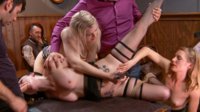 Slutty bombshell Veruca finds her match at a local bar. She arrives already bound and ready to get fucked in the ass. She loves to suck cocks while being teased and gawked at by the large crowd. She's then bound with her leg tied to the ceiling, pussy and ass spread wide open for anal. She's fucked in every hole by 2 giant cocks and covered in cum while Mona Wales and Ella Nova help get her off.
Join Site!
Buy Shoot!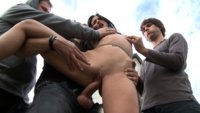 Bailey is a super gorgeous and naturally submissive European babe who is new to, basically everything. She gets suspended from a bridge while people pass and stare, then methodically stripped of her clothing, one cut of the scissors at a time. After getting her completely nude we take her to get fucked, sucked, and be fondled by Zenza Raggi and a couple of his buds. Then it's off to the truck stop to entertain the truckers with some hot anal pounding!
Join Site!
Buy Shoot!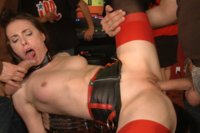 Sex Tourist Casey Calvert is looking to service the kinky city of San Francisco. First stop on her list is the local leather shop to find the sluttiest outfit. Tommy Pistol makes her submit to deep oral payment for these goods. Casey is then blindfolded and paraded down the filthy streets to a crowded bar. She is humiliated, flogged, double teamed, anally fucked and covered in cum in front of a huge crowd.
Join Site!
Buy Shoot!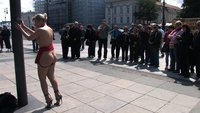 The first scene of this movie is arguably one of the best public disgrace scenes ever shot. The humiliation and shame is written all over Kitty's face as a crowd of elderly tourists stare and laugh at her naked body. She is bound in severe metal shoes that make it impossible for her to move even the slightest bit. She must put all her concentration into standing up straight and not falling flat on her face. This is just the beginning of Kitty's day in the wide open tourist destination. Kitty sucks and fucks huge cock while at any moment, someone could be watching her.
Join Site!
Buy Shoot!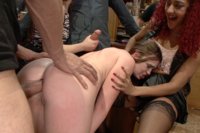 Sweet slutty Jodi wanders the streets of San Francisco with her ass out for all to see. She finds a group of nudists and then stumbles upon a flower shop. Her fantasy comes to life when she is dominated into submission in front of customers. She's rope bound, fucked by a huge cock, and dominated by beautiful female patrons. She's is covered in cum and piss.
Join Site!
Buy Shoot!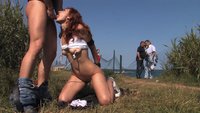 Public Disgrace is THE site for real public sex and public humiliation. We take our girls to the street where everyone can see them, strip them bare, fuck their brains out, and invite strangers to fondle and finger them. It doesn't get more authentic than this. If what you want is real public bondage and sex then look no further, Public Disgrace is the site for you!
Join Site!
Buy Shoot!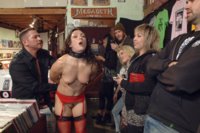 Bound in beautiful San Francisco, sex slave Wenona is made to walk the filthy streets in broad daylight. Searching for anything to wear and having no money to pay, Wenona offers up some oral deposits in exchange for the goods. Finally Wenona finds herself at a crowded record store, ready and willing to put on a show for the customers. John Strong is happy to flog, cane, and make Wenona his pet slave. She obliges him by getting all her holes filled and fucked. Don't we all wish we could work at that record store!
Join Site!
Buy Shoot!