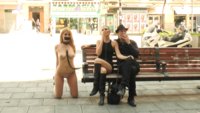 Hanna Montada is a gorgeous busty bondage slut that is stripped fully naked in public. Humiliated by Mona Wales, this whore is made to service Legendary Steve Holmes. This pain slut wants even more and takes corporal punishment followed by a hard fucking in rope bondage. Mona Wales has her way too with this big tit slut and fists orgasms out of her.
Join Site!
Buy Shoot!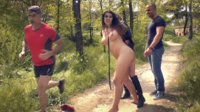 Mona Wales is back on Public Disgrace to make sure Busty Model Klara Gold gets everything that is coming to her. Klara is humiliated in a public courtyard then taken to a crowded park for hard fucking. Mona even pisses on her! Later at a crowded cafe, everyone gets a piece of this slutty whore.
Join Site!
Buy Shoot!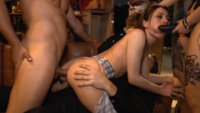 Valentina Bianco is a slutty anal piggy and Satrina shames this whore all around town. She gets tied up in rope bondage and submits to corporal punishment. She gets humiliated with double penetration followed by a strap-on fucking to the mouth. Valentina gets fucked hard and deep in all her tight holes.
Join Site!
Buy Shoot!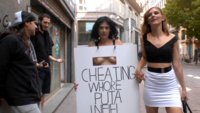 Montse Swinger is a cheating whore of a wife and Mona Wales is there to teach this bitch a lesson! Everyone in town is going to know how many cocks this unfaithful wife has stuffed in her anal hungry ass while Mona parades her fully naked in public where husband's coworkers shop! Who knows how many of these onlookers this Puta has fucked! To continue the humiliation Montse is tied up in rope bondage then fisted and anally fucked in front of a crowd of on duty construction workers!
Join Site!
Buy Shoot!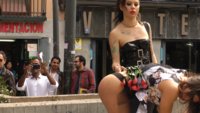 Gorgeous Domme Satrina completely humiliates spanish slave Gala Brown at a live concert. The crowd laughs and mocks this horny slut as she is used and ridiculed by the live band! The rowdy crowd then takes turns using gala as she is fucked and made to suck off stranger cock!
Join Site!
Buy Shoot!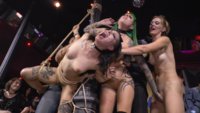 Legendary Director Steve Holmes has a gift for Mona Wales! Two slutty pain whores to take to the filthiest fucking international orgy of all time! Satrina and Lola are made to grovel like dogs at the feet of devastating Domme Mona Wales and fight over a dirty dildo like the filthy whores they are. This pair of fuck holes is then taken to a Spanish bar packed with riff raff to serve the crowd and compete in the most humiliating slut-off in the world. Finally bound and shut up with throats full of cock, all that's left is a hard, intense fucking to make these ultimate sluts give the crowd what they want!!
Be sure to check out how wild this party got with our very special behind the scenes segment on BehindKink.com . Watch what happens at the party while these models are getting tied up!
Join Site!
Buy Shoot!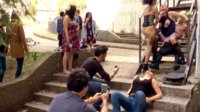 Camil Core is humiliated and shamed on the streets of Madrid by gorgeous Dom Satrina. This dirty slut is drenched in a public fountain before getting pissed on and fucked outdoors in front of a wild crowd. Later she is tied up in rope bondage for some corporal punishment and a deep anal fucking. She then takes it in every hole for a hard double penetration.
Join Site!
Buy Shoot!