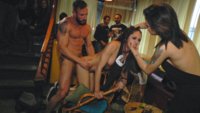 Carolina Abril is taken to a crowded tourist destination in Madrid and stripped. She is humiliated in front of a shocked crowd. Later at a rowdy bar, she is ravaged and fucked by Emilio Ardana. The horny crowd can't keep their hands off of this hot slut.
Join Site!
Buy Shoot!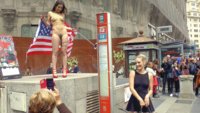 Juliette March is an embarrassment to the USA. This slutty loser tourist with her pathetic selfie stick is lost in Madrid! Mona Wales doesn't even want to be seen with her. Luckily no one is better at humiliating Juliette March more than herself. She gets fully nude in a crowded downtown area and drapes an American flag around herself. After shaming herself in front of everyone, she is hungry for Euro COCK! At a crowded bar this anal slut gets double filled and fucked hard in rope bondage. Everyone there gets a piece of this american pie!
Check out the behind the scenes footage for this shoot at Behind Kink!
Join Site!
Buy Shoot!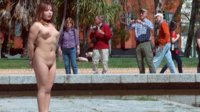 Mitsuki Sweet is back on Public Disgrace and ready to serve Steve Holmes and the public of Madrid! She is made to strip fully nude and is then hand cuffed and ordered to present herself to the public. Humiliated she is then taken to a crowded shopping district and hand cuffed to a post for all mock her. This gets her pussy dripping and Steve takes her to a packed pub and pounds that hot cunt. The crowd laughs at her as she is made to serve them. She is dripping with cum by the end of this and is still ordered to serve the horny crowd.
Join Site!
Buy Shoot!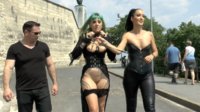 Lola is back again on Public Disgrace for more humiliation, shaming, and debauchery! Fetish Liza and John Strong expose this gorgeous busty slut to the city of Budapest! Lola is there to service, suck, fuck and become a human ashtray of filth. Her embarrassment to put on a sexy show for the large crowd quickly gets remedied with two huge loads of cum to her face.
Join Site!
Buy Shoot!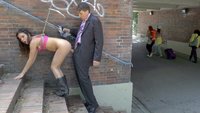 Juliette March is a total slut and deserves to be shamed! This whore gets fully naked at a huge crowded park in front of everyone, then Steve Holmes fucks her tight pussy in public while she is in rope bondage! At a crowded open bar later, she is let loose to service everyone.
Join Site!
Buy Shoot!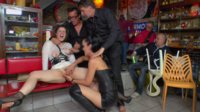 Longtime PD Fan and public whore Lucia Love is greedy to be used on Public Disgrace!!! Fetish Liza steps up to that task and brutally shames and humiliates this natural busty whore all over Budapest. Lucia barks like a dog, gets disgusting food smeared over her face, and then pissed on to wash it all off. This greedy anal slut can't get enough, she is humiliated with a hard pounding double penetration in front of a huge crowd.
Join Site!
Buy Shoot!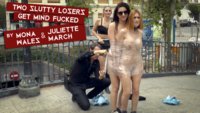 We have Mona Wales back! And to make it even crazier she's brought along Juliette March to brutally humiliate two gorgeous slutty loser models! These rope bondage whores get tied up in a public park in front of a huge crowd and take a serious corporal punishment! Next these disgraced sluts get stripped fully naked in public and told to bark like dogs for the huge crowd to see! Finally we tie up these beautiful models again for an epic fucking and fisting! Do not miss this public humiliation with Mona Wales, Juliette March, perky Claudia Nicole, and busty Valeria Blue!!!
Join Site!
Buy Shoot!