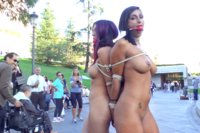 Two gorgeous models are tied up and publicly humiliated on the streets of Madrid in full display for everyone to see. Later that night they are made to serve a packed club. Every slave pussy gets fucked that night.
Join Site!
Buy Shoot!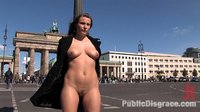 The first scene of this movie should definitely go down in the Public Disgrace Hall of Fame. Harmony Rose puts electric sticky pads on under her coat and a vibrator on her clit in front of one of the most famous monuments in Europe. Hoards of people surround her while she cums and suffers in silence. Then she is handcuffed to a light post and her jacket is unbuttoned to reveal her naked body for everyone to see. Hot!! Hot!! Hot!!
Join Site!
Buy Shoot!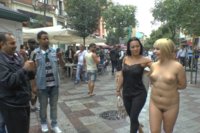 Sweet Mitsuki is put up for display on a busy street for hundreds of tourists to see. She's chased and fucked through a public park, while in a straightjacket. Then they sneak her to the back of a store where they shave her pussy. They end up in a dark stairwell, where Sandra Romain and Steve Holmes torment and fuck her while a group of young people watch.
Join Site!
Buy Shoot!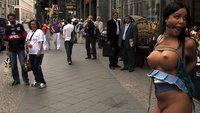 Everyone's favorite Euro Slut Angelica Heart returns to Public Disgrace. Zenza Raggi and Harmony Rose take her on a tour of the city that involves lots of public bondage, public nudity, public fucking, blowjobs, BDSM and more!!! The final scene at the Curry Stand is one of my personal favorites. If public exhibitionism and humiliation is what gets your cock hard, you won't want to miss this shoot.
Join Site!
Buy Shoot!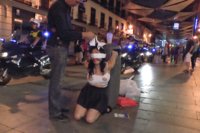 Damaris is left all day tied to a trashcan in front of hundreds of shoppers. Then she is dragged to a bar where she's finger fucked and disgraced by a crowd of strangers. She gets pounded by a big cock for all to see
Join Site!
Buy Shoot!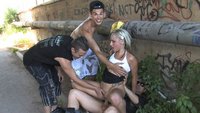 Leyla Black gets tied up and fucked in public while strangers fondle her tits and finger her holes. She is restrained in latex with a vibrator and electricity under her clothes and made to cum while walking through the streets. Then she gives a handjob to a random dude on the street, covered in cum and left chained to a pole.
Join Site!
Buy Shoot!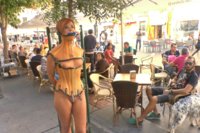 Beautiful Spanish model Bianca Resa is bound and led through the streets of Madrid to service the public. She is made into a public ashtray that even the police agree is an excellent idea. She is finally tied up and fucked in front of everyone at the local bar.
Join Site!
Buy Shoot!