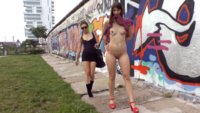 Juliette March has the impossible task of training her shiny new slut, Suzan Ayn. Suzan is in dire need of strict training on how to behave in public. She does not moan, she does not smile, she can barley walk in heels. At a loss of what to do Juliette drags Suzan along the ground, exposes her ass, clamps her little pink nipples and then leaves her naked in front of a crowd of tourists who laugh take selfies of with Suzan's pathetic face. After all that punishment Suzan continues to be disobedient. Frustrated, Juliette stands over her defiant whore and relieves herself into Suzan's mouth. Finally, Juliette is convinced that her whore has been sufficiently disciplined and decides to rewards Suzan by taking her to a bar to get her little pink hole pounded by anyone who can get a hard-on. Two hot goth girls begin stripping, kissing and fucking at the site of Suzan's open cunt. Old men and jerk off and face fuck Suzan as Juliette attempts to shove her fist inside Suzan's dirty little cunt. Maybe it was the corporal punishment, maybe it was the humiliation or maybe Suzan just needed some deep dicking but by the end of the day Suzan is moaning and begging for all the cum she can get.
Join Site!
Buy Shoot!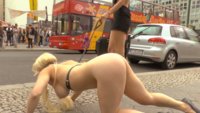 Mona Wales dislikes nothing more than dirty streets and clean submissives. This morning Mona decides to take matters into her own hands and take her beautiful blonde cum whore out to clean the streets of Berlin. The site of the humiliated Celina Davis crawling along the sidewalk is a welcome distraction to the morning commuters. Men in suits stop and admire Celina's exposed milky ass, pink pussy and spread asshole. As Mona's human street sweeper crawls to get all the trash, her heavy tits brush against the filthy sidewalk. Once Mona is satisfied that she has done her public service for the day, she takes Celina's whore holes to be fill at a local bar. Once in the bar Mona opens her slut up to be used. With an ashtray in her mouth Celina's pussy is packed of cock with a double vaginal penetration. After Celina's holes have been completely used up the bar patrons toss their cigaret buts, ash and cum all over her face and perky tits. Thank you Mona for doing your part to make Berlin a cleaner and happier place.
Join Site!
Buy Shoot!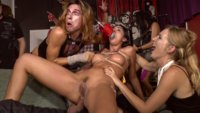 Julia de Lucia loves being fucked in the ass by strangers and dominated by Mona Wales. Mona desperately wants the world to know what a cum dumpster Julia is. What better way to show the world then branding her cum gobbler with a "Cock Garage" tramp stamp. When Julia refuses to get the tattoo, Mona relents under one condition: Julia sexually services everyone who comes into the tattoo shop. With her ass up face down Julia opens her cock garage to the public. Guys walk into the shop whip out their dicks and jerk off to the site of Julia's eager holes. With hands all over her, she takes a cock in her pussy and one in her mouth. After everyone in the tattoo shop has been serviced Mona takes her naked barefoot whore through the streets to a punk show where Julia's anal punishment continues.
Join Site!
Buy Shoot!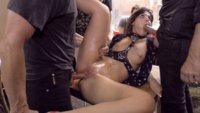 There is something about the Budapest heat that drives tight ass nymphos crazy. On this extremely hot day Tina Kay takes her disobedient slut on a cock hunt through the streets. Doing her best to please her dominant, Bella Beretta kneels on the filthy ground and opens her whore mouth for pleasure. Disappointed in Bella's performance, Tina presents her slut's holes to a cafe full of horny dudes. This disgusting bitch acts as a human bidet and licks Tina's sweaty ass and cunt clean while being pumped full of strange cock. Patrons humiliate Bella by taking pictures of her while she is blasted in the face by multiple loads of cum. Finally, after Bella completely used up Tina is able to relax with a cool and refreshing drink as her whore is left on the floor.
Join Site!
Buy Shoot!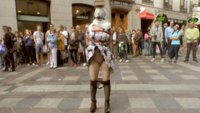 Slutty Brenda Boop is a whore for Jesus and Mona Wales is there to humiliate her in front of the whole god fearing town! It's time to spread the good word that Public Disgrace means business! This busty slut gets taken to a crowded tattoo shop and picks to have jesus put on her pussy! Nipple clamps, Rope bondage, and getting trashed dumped on her head isn't even enough for Brenda, her big round juicy ass wants to get fucked! Two huge cocks deliver a brutal anal followed by huge loads of cum on her face!
Join Site!
Buy Shoot!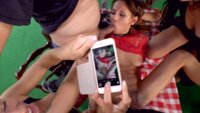 Just a normal day in Budapest for Fetish Liza. Taking her pathetic fuck pet out for a walk, exposing her perky tits to the tourists passing by. Liza gets off on stripping away her submissive's humanity by bending her over so the public can see the tail shoved in her ass. Fetish Liza drags her humiliated slave to a bistro where she feeds her pet all the cock, pussy and cum the patrons had to give. Todays fuck pet menu consists of corporal punishment for an appetizer, double penetration for the main course and huge mouth full of cum for desert. This was a lunch the unsuspecting crowd will never forget.
Join Site!
Buy Shoot!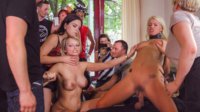 Two gorgeous busty rope bondage blondes get disgraced for your viewing pleasure. Watch these beautiful women get humiliated in public, suck huge cocks outdoors! These sluts then get fucked and disgraced in front of a huge crowd, begging for anal! We drench them in cum!
Join Site!
Buy Shoot!