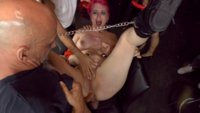 Proxy Page begs to service everyone she passes on the street. This pathetic slut exposes her huge ass and perky tits to anyone who will give her the attention she craves. After being humiliated in public she is dragged into a bar where she takes cock after cock in her gaping asshole. She begs her dominant to fill her mouth and soak her from head to toe. Opening her ass up she takes double anal and still wants more. Finally, after this pathetic slave is completely used up she is brutally fisted and drenched in cum.
Join Site!
Buy Shoot!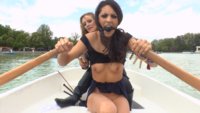 Perky Carolina Abril is back on Public Disgrace and humiliated in a crowded park by Mona Wales. She gets tied up in robe bondage and shamed in front of horny guys. At a dirty club Carolina is fisted and fucked by huge cocks. The crowd all get a piece of this bondage slut. After an intense clothespin zipper she is covered in cum, piss, and sweat and then made to clean it all up.
Join Site!
Buy Shoot!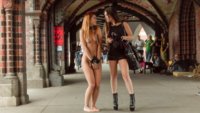 Perky young Lullu Gun is a pretty little exhibitionist whore and Julliette March gets her fully naked and crawling around on the dirty streets for all the boys to see. She then turns that firm ass bright red with some corporal punishment outdoors. Finally those tight holes get filled with fat cocks at a crowded cafe.
Join Site!
Buy Shoot!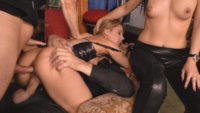 Nikki Thorne is back and this time she gets punished by Fetish Liza. This anal slut in a tight rubber dress is a filthy mess. She takes huge cocks in her ass and double penetration while being humiliated by the crowd. We cover this slut in cum and drag her through the dirty streets.
Join Site!
Buy Shoot!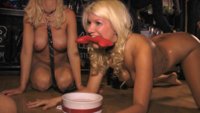 Manu and Laela are filthy slutty animals that need to be fully disgraced. Mona Wales treats these two busty anal sluts like dogs fighting over a dirty bone. How embarrassing! These two fuck sluts later get filled by men and machines in their tight holes. The crowd is overwhelmed by the humiliations these two are going through and the heat gets the better of two gorgeous lesbians who get naked and start fucking each other as well! Do not miss this Public Disgrace!
Join Site!
Buy Shoot!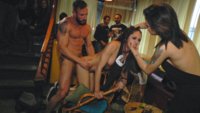 Carolina Abril is taken to a crowded tourist destination in Madrid and stripped. She is humiliated in front of a shocked crowd. Later at a rowdy bar, she is ravaged and fucked by Emilio Ardana. The horny crowd can't keep their hands off of this hot slut.
Join Site!
Buy Shoot!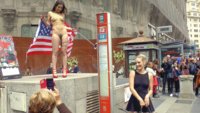 Juliette March is an embarrassment to the USA. This slutty loser tourist with her pathetic selfie stick is lost in Madrid! Mona Wales doesn't even want to be seen with her. Luckily no one is better at humiliating Juliette March more than herself. She gets fully nude in a crowded downtown area and drapes an American flag around herself. After shaming herself in front of everyone, she is hungry for Euro COCK! At a crowded bar this anal slut gets double filled and fucked hard in rope bondage. Everyone there gets a piece of this american pie!
Check out the behind the scenes footage for this shoot at Behind Kink!
Join Site!
Buy Shoot!