Flexible redhead is bound and stripped naked in public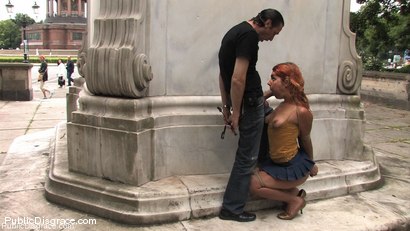 Join Site!
Membership Benefits
130+ Shoots
140+ hours of Video
38,595+ photos
Updates every Friday in HD
Access to member forums
Molly Pony is stripped bare on the street and instructed to wash car windows on the street corner. Everyone passing stares in amazement as this slut runs shackled through the streets trying desperately to please Steve Holmes. When she only makes 50 cents for her efforts Steve spreads her legs wide on a park bench in a bondage position that is both challenging and inescapable. Unable to close her legs or cover her pussy Molly is vibrated to orgasm while people stop and stare. And that is only the first two scenes! Join now to find out what happens next!