Big Titted Reality TV Star Ass Fucked in Public!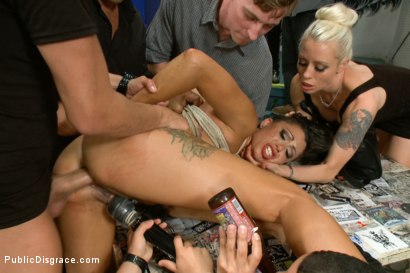 Join Site!
Membership Benefits
130+ Shoots
140+ hours of Video
38,595+ photos
Updates every Friday in HD
Access to member forums
Curvy reality tv star Cameron Bay loves attention, but she has no idea what she's in for when she signs up for Public Disgrace. Lorelei ties up her D-cup tits and drags her into a dirty Mission punk club where Cameron immediately has her clothes ripped off by the rough crowd. She asked for humiliation and rough sex, and she gets both as she's spanked and tit-slapped and called names by strangers, bent over a table and fucked in the ass, and told to suck the cock of a strange man who unzips his pants and shoves his dick in her face. But the biggest humiliation for this attention-whore comes when Cameron is made to stand alone on stage and foolishly attempt to masturbate with her bound hands. When she can't make herself cum, a team of dykes pins her down and Lorelei fist-fucks her. When she is utterly destroyed and covered in cum, Cameron is tied to a stairway and made to take the cattle prod. Finished with this slut, Lorelei Leaves her tied there, a plaything for the lustful bar patrons.