Mi Amore! PD goes to Madrid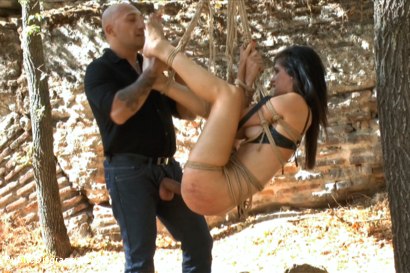 Join Site!
Membership Benefits
130+ Shoots
140+ hours of Video
38,595+ photos
Updates every Friday in HD
Access to member forums
Ms Vega, a sexy, smoldering brunette gets invited to a mysterious rendezvous. What she doesn't realize is that her domineering lover has a nasty addition to her new sexy outfit. Decked out in a rubber pigs head he parades her on a leash through Madrid for all to see. This common barnyard whore is zipped to a fence and humiliated in front of a gathering crowd of curious tourists.

Next she is strung up on a tree, beaten like a pinate and fucked until she squirts and creams. Next she is dragged to a cafe while her "lover" enjoys a cold beer and a throat pounding bubbling blowjob.